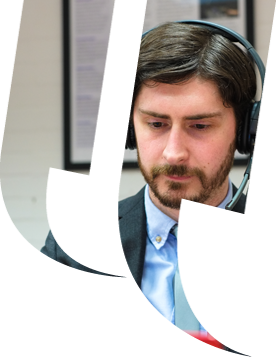 PACE Transcription Services
Communique offers a wide range of transcription and summary writing services to meet the needs of our clients and their intended use of the final transcript.
Police and Criminal Evidence (PACE) transcripts are most frequently produced in verbatim format due to the legal nature of PACE content. This choice of transcript provides the reader with a precise word for word account of what was said. There are also many other formats for our clients to choose from, these are outlined in our transcript style guide.
Our writers have years of experience in writing transcripts taken from PACE tapes and other audio formats for a variety of clients in the legal sector. During every transcription assignment we ensure that all transcripts are independently proof edited against the source audio guaranteeing absolute accuracy in content.
For confidentiality purposes, all of our staff both in-house and subcontractors are bound by our Non Disclosure Agreement and we are happy to sign the same provided by our clients upon request. All audio received for transcription is either returned to the client via secure mail or courier and/or deleted from our systems upon completion of any given assignment.
We offer a highly consultative approach to all matters of transcription and welcome the opportunity to discuss your transcript requirements in detail so that we can propose a style that suits the purpose of the document and its recipients.
For further information regarding our PACE transcription services, please feel free to request a quotation or contact us.