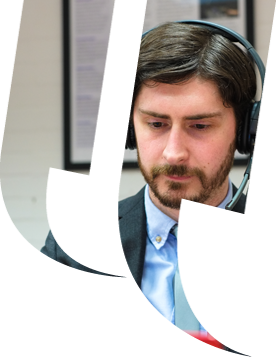 Court Reporting and Stenography Services
Communique provides a wide variety of transcription and summary writing services for many of the UK's leading legal, private and public sector organisations.
What's the difference between a court reporter and a stenographer?
A stenographer is a professional who has been trained to use a stenograph for the purpose of reporting. A Stenograph machine (also known as a 'Steno') is used by stenographers to take shorthand notes during court proceedings. The notes are taken phonetically and then edited post hearing to produce a more comprehensive transcript.
A court reporter is a professional writer who attends court with a laptop or writing pad and manually takes notes in shorthand which are then edited to create a more precise report post proceedings.
We ensure that all staff members both in-house and subcontractors have signed our Non Disclosure Agreement for confidentiality purposes. We are also happy to sign the same provided by our clients at their request.
All of our court reporters and stenographers are fully qualified professionals offering years of experience in transcribing legal proceedings. Before a court reporter or Stenographer begins work with Communique, we ensure the following prerequisites have been met:
At least 5 years experience in producing transcripts via their chosen method of transcription
Recognised qualifications in court reporting and / or Stenography from a recognised body
Membership with a related professional association (preferred but non-essential)
Have met the marked criteria of our in-house testing process
For further information regarding our court reporting or stenography services, please feel free to request a quotation or contact us.