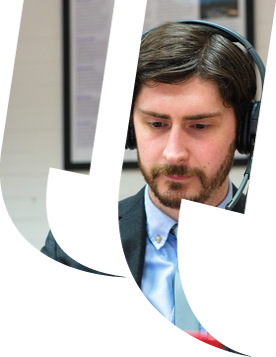 Audio Transcription Services and Foreign Audio Transcription Services for the Legal Sector
Communique work with a variety of the UK's most recognised law firms in providing transcription and summary writing services taken from Audio. We also offer court reporting services and stenographers services for matters that require our professional attendance.
Our writers offer masses of experience in writing transcripts taken from audio files containing interviews, proceedings, statements and much more. Throughout every transcription assignment we ensure that your transcripts are independently proof edited against the original audio guaranteeing total accuracy in the final transcript.
As experts in both translation and transcription, we also offer unparalleled quality in writing foreign audio transcripts in a wide spectrum of the world's languages.
There are a variety of styles to adopt when producing a transcript, which one you choose depends on the purpose of the document and its target audience. For information on the types of transcript we offer, please refer to our transcription style guide.
For confidentiality purposes, all of our staff both in-house and subcontractors have signed our Non Disclosure Agreement and we are happy to sign the same provided by our clients at their request. All audio received for transcription is either returned to the client via secure mail or courier and/or deleted from our systems upon completion of any given assignment.
We offer a highly consultative approach to all matters of transcription and welcome the opportunity to discuss your transcript requirements in detail so that we can propose a style that suits the purpose of the document and its recipients.
For further information regarding our audio transcription services, please feel free to request a quotation or contact us.